Stainless Steel Weld Neck Flanges Manufacturer in  Mumbai
A Weld Neck flange is a cast ring that is intended to connect sections of a pipe or any other machinery that requires a linking joint.  Before confirming your order, it is important to note that these flanges come in different sizes, diameters, shapes, and measurements. Available in various shapes in terms of their measurements and field of application. Call us to get a free quote today.
Stainless Steel Weld Neck Flanges are popularly used in high-pressure applications, with their ability to provide supporting strength along with stress distribution. Though ASME B16.9 Weld Neck Flanges can be radiographed for flaw detection and are highly hard-wearing, they are quite luxurious. We are eager to take on new challenges and learn new things in the procedure.
Standard Specification For Weld Neck Flanges
Weld Neck Flanges Dimensions: ANSI B16.5, ANSI B16.47 Series A & B, MSS SP44, ASA, API-605, AWWA, Custom Drawings
Weld Neck Flanges Size: 1/2″ (15 NB) to 48″ (1200NB)
Weld Neck Flanges Class : 150 LBS, 300 LBS, 600 LBS, 900 LBS, 1500 LBS, 2500 LBS, DIN Standard ND-6,10, 16, 25, 40 Etc.
Weld Neck Flanges DIN : DIN2527, DIN2566, DIN2573, DIN2576, DIN2641, DIN2642, DIN2655, DIN2656, DIN2627, DIN2628, DIN2629, DIN 2631, DIN2632, DIN2633, DIN2634, DIN2635, DIN2636,DIN2637, DIN2638, DIN2673
Weld Neck Flanges BS: BS4504, BS4504, BS1560, BS10
Weld Neck Flanges Face Type: Flate Face (FF), Raised Face (RF), Ring Type Joint (RTJ)
Material & Grades of Weld Neck Flanges (WNRF) :
Stainless Steel Weld Neck Flanges :
ASTM A 182, A 240 F 304, 304L, 304H, 316, 316L, 316Ti, 310, 310S, 321, 321H, 317, 347, 347H, 904L
Duplex & Super Duplex Steel Weld Neck Flanges :
ASTM / ASME A/SA 182 F 44, F 45, F51, F 53, F 55, F 60, F 61
Carbon Steel Weld Neck Flanges :
ASTM / ASME A/SA 105 ASTM / ASME A 350 , ASTM A 181 LF 2 / A516 Gr.70 A36, A694 F42, F46, F52, F60, F65, F706
Low-Temperature Carbon Steel Weld Neck Flanges: ASTM A350, LF2, LF3
Alloy Steel Weld Neck Flanges :
ASTM / ASME A/SA 182 & A 387 F1, F5, F9, F11, F12, F22, F91
Nickel Alloy Weld Neck Flanges :
ASTM SB564, SB160, SB472, SB162 Nickel 200 (UNS No. N02200), Nickel 201 (UNS No. N02201), Monel 400 (UNS No. N04400), Monel 500 (UNS No. N05500), Inconel 800 (UNS No. N08800), Inconel 825 (UNS No. N08825), Inconel 600 (UNS No. N06600), Inconel 625 (UNS No. N06625), Inconel 601 (UNS No. N06601), Hastelloy C 276 (UNS No. N10276), Alloy 20 (UNS No. N08020)
ASME B16.5 Weld Neck Flanges Available Types
| | |
| --- | --- |
| Weld Neck Raised Face Flange | Raised Faced Weld Neck Flanges |
| ANSI B16.5 Weld Neck Flanges | Weld Neck Flange Dimensions |
| ASME B16.5 WNRF Flanges | ANSI B16.5 Class 150 Weld Neck Flanges |
| Stainless Steel Weld Neck Flanges Suppliers | SS Weld Neck Flange |
| Weld Neck Plate Flanges Dealer | ASME B16.47 Series A and B WNRF Flanges Exporter |
| ANSI B16.5 class 150 WNRF Flange Stockholder | ANSI 150 Weld Neck Flange Distributors |
| Carbon Steel Weld Neck Flange | High-Quality WNRF Flanges Manufacturer |
| ASTM A182 Stainless Steel WNRF Flange | Duplex Steel Weld Neck Flange |
| Super Duplex Steel Weld Neck Forged Flange | Copper Nickel Weld Neck Pipe Flanges |
| High Nickel Alloy WNRF Flanges | Hastelloy Flat Faced Weld Neck Flanges Stockist |
| Titanium ASME B16.47 Series A and B WNRF Flanges | Inconel Weld Neck Flanges |
Welding Neck Flange, WN Forged Flanges, Weld Neck Flanges Production Range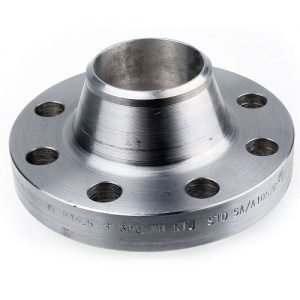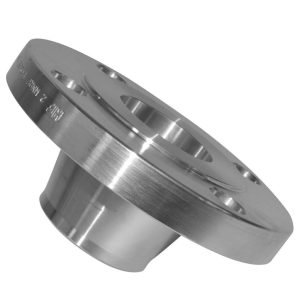 Stainless Steel ANSI B16.1 Weld Neck Flange       Stainless Steel ASME B16.1 Weld Neck Flange Manufacturer       Stainless Steel ASTM A182 Flange Manufacturer
Stainless Steel Weld Neck Flanges Availability:
ANSI B16.5 Weld Neck Flanges Application
ASME B16.5 Weld Neck Flanges are known to transport exceptional performance and are commonly developed for meeting the stresses. We offer a broad range of Flat Faced Weld Neck Flanges through a universal network of stock-keeping branches. This Weld Neck Flange is used in various industries like:
 Stainless Steel Weld Neck Flanges uses in Oil and Gas Pipeline
 Weld Neck Raised Face Flanges uses in Chemical Industry
 Alloy Steel WNRF Flanges uses in Plumbing
 Flat Faced Weld Neck Flanges uses in Heating
 Weld Neck Pipe Flanges uses in Water Supply Systems
 ANSI B16.5 Weld Neck Forged Flanges uses in Power Plant
 Steel Weld Neck Flanges uses in Fabrication Industry
 Weld Neck Flange uses in Food Processing Industry
 Weld Neck Flanges uses in Structural Pipe